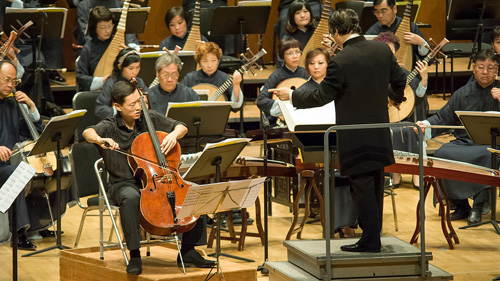 Suite No.4: Love in Vain
The Dream of the Red Chamber Suite

01.Jan.2015
The Dream of Red Chamber Suite Recording
Based on one of the greatest classical Chinese epics that has enraptured readers for generations, The Dream of the Red Chamber Suite for Cello and Chinese Orchestra was commissioned by Musicus Society and created in this first musical collaboration between Mainland China, Hong Kong, and Taiwan. From the original score of mainland composer Wang Liping, the work was re-arranged by Taiwan composer Tung Chao-ming and Musicus Society's Artistic Director Trey Lee from Hong Kong. It was recorded in Taipei in 2013 by Trey with the National Chinese Orchestra Taiwan under the baton of renowned conductor Yan Huichang.
Besides The Dream of the Red Chamber Suite, this recording also includes two pieces performed by the National Chinese Orchestra Taiwan, Memories in Bluescale Suite and Fung Ying Rhapsody.
THE DREAM OF THE RED CHAMBER SUITE
Commissioner: Musicus Society
Suite No.1: Windy and Rainy Autumn Evening by the Window
Suite No.2: A Sigh of the Maid Xiang-ling
Suite No.3: Lantern Festival
Suite No.4: Love in Vain
Suite No.5: Song of Flower Burial
CD Available now
here
.