Musicus Fest Announces 11th-Season Festival and Presents Top International Musicians Gathering in Hong Kong
09.08.2023
(8 September 2023, Hong Kong) Musicus Society announced today Musicus Fest 2023, which will feature 10 concerts over four weekends – from 11 November to 3 December – in Hong Kong. Now in its 11th season, Musicus Fest is an international meeting point for world-class artists in classical music. The renowned festival brings together musicians from Australia, Austria, Canada, Italy, Germany, Korea and Hong Kong for an annual celebration of cross-cultural musicianship, also working with young talents to bring their artistry to new heights.

The festival returns stronger than ever, following its 10-year milestone in 2022, for which the Musicus Soloists Hong Kong (MSHK) made its celebratory debut. The acclaimed new ensemble, which returns this year, was founded and is directed by Musicus Fest Artistic Director Trey Lee, an internationally-renowned cellist hailed by the New York Times for his "enveloping richness and lyrical sensitivity."

Artistic Director Trey Lee said, "It's a pleasure to invite world-class artists to join Musicus Fest in Hong Kong, where musicians at various career stages and diverse backgrounds come to connect and give awe-inspiring performances. We aim to deepen cross-cultural collaborations between local and international performers. And through raising the bar artistically and in terms of audience experience, we look forward to shaping the festival, and the city, as one of the world's elite music-making destinations."

MSHK, which performs at Musicus Fest on 21 Nov, assembles some of Hong Kong's top next-generation artists – outstanding young soloists and chamber musicians studying in different parts of the world. The ensemble, which made its European debut earlier this year, aims to become a leading chamber group representing Hong Kong globally. MSHK is delighted to return to the Hong Kong stage this fall, performing with the French-Canadian pianist Louis Lortie – one of the world's most versatile and critically acclaimed pianists – as guest artistic director and piano soloist. Lortie's remarkable musical range has been witnessed in performances with famous ensembles and orchestras and in award-winning recordings. He will be joined by acclaimed musicians from overseas, including Canadian violinist Elissa Lee as guest concertmaster, South Korean violist Sang-jin Kim, and cellist Martin Smith from Germany.

Since its founding in 2010, Musicus Society has supported numerous young artists and launched their careers as professional musicians. On 24 Nov, the festival presents Next Generation Virtuosi, a chamber music program that this year spotlights violinist Aaron Chan. In his solo recital, the winner of the 2023 Musicus Society Young Artist Audition will perform a handpicked program to showcase his talent, musical skills and sensibility. He will be accompanied by Colleen Lee, a renowned pianist from Hong Kong and prizewinner at the 15th International Chopin Piano Competition.

Founded in Mozart's birthplace, Camerata Salzburg is one of the world's leading chamber orchestras, regularly invited to perform at prestigious venues from Paris to Beijing. It makes its Musicus Fest debut this year with two performances, on 25 and 26 Nov. The celebrated group was founded in 1952 and is today known for its "Salzburg sound," crafted over decades. It's one of the core ensembles at the Salzburg Festival and the Mozartwoche Festival. Their first concert at Musicus Fest 2023 features Trey Lee performing Shostakovich's Cello Concerto No. 1, which will be a tour de force of the rhythmic power and relentless drive of his music, while marking the final stop in the Camerata and Trey's multi-city Greater China tour in 2023. The 26 Nov concert – the festival's closing event – highlights two previous winners of the Young Artist Audition: violinists Fan Hiu-sing and Jeremy Hao, performing side-by-side in Mozart's Concertone for two Violins and Orchestra, K. 190. In the grand finale piece, by Leó Weiner, students from Musicus' Ensemble Training program will perform alongside Camerata Salzburg.

Under the sponsorship of The Hong Kong Jockey Club Charities Trust, the popular Jockey Club Musicus Heritage Stories concert series continues its aim to celebrate Hong Kong's history with music and features composers and artists from other disciplines to create new works, bringing new perspectives to historical sites. Its predecessor, the Jockey Club Musicus Heritage Alive program, was recognized at the 2022 Global Awards for World Heritage Education Innovative Cases by the World Heritage Institute of Training and Research APAC Region, under the auspices of UNESCO. This year, the concerts will take place at the Former North Kowloon Magistracy. Built in 1960, the Grade 2 historic building will become the venue for free concerts from 1 to 3 Dec, featuring guest violinist Martin Funda and other superb performers. The program will also incorporate guided tours and introduce the cheongsam, an iconic and charming Chinese fashion style dating back to the 1920s, via collaboration with the Hong Kong Cheongsam Association. More details coming soon.

On 11 Nov, Musicus Fest presents Marco Polo's Musical Encounter of East and West. The family-friendly concert features music by top-ranking local musicians and interactive theater elements. The performance introduces fun facts about Chinese and Western musical traditions, and instruments, geared toward children (aged 3+). The performance includes an imaginative story and educational interludes delivered in a light-hearted manner. Co-directors/writers and performers Ursula Volkmann (Germany) and Maddalena Recino (Italy) join a superb ensemble cast from Hong Kong.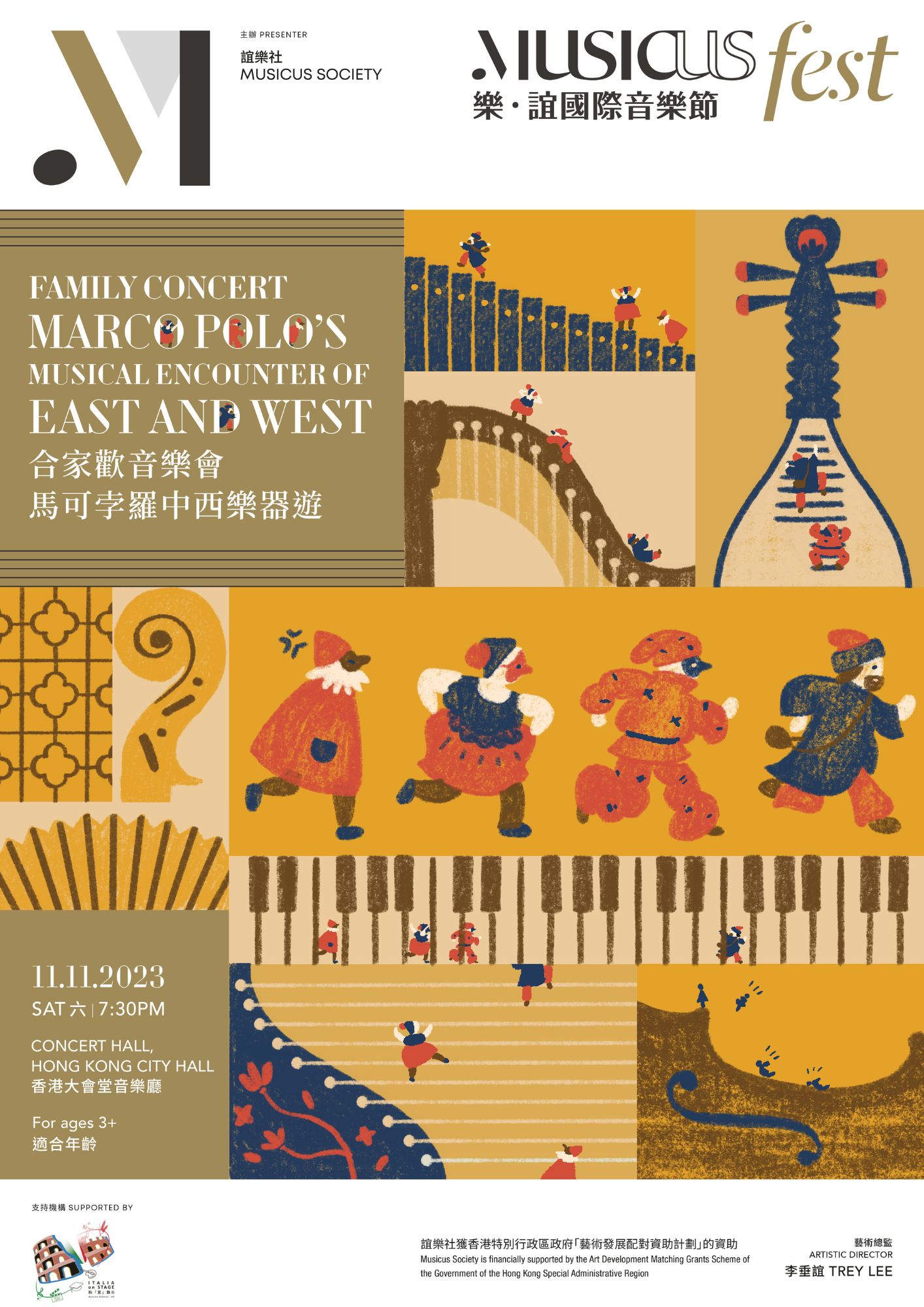 1. Family Concert: Marco Polo's Musical Encounter of East and West (7:30 PM, 11 November) | Concert Hall, Hong Kong City Hall
Get to know Chinese and Western instruments on an interactive journey presented by leading musicians
The great adventurer Marco Polo returns to Italy from China, bearing a range of musical instruments as gifts from the emperor. He will take audiences to meet the Venetians Pantalone, Arlecchino and Zazzà, as they prepare for the exciting Venice Carnival and learn about playing music from virtuoso musicians.
The entrancing tunes in this interactive concert showcase Chinese and Western instruments and traditions, and the performances are infused with the spirit of the classic Italian commedia dell'arte, containing moments of comedy certain to delight kids and adults alike.
Dress up, pick a mask and get ready for this fun-filled Venice Carnival!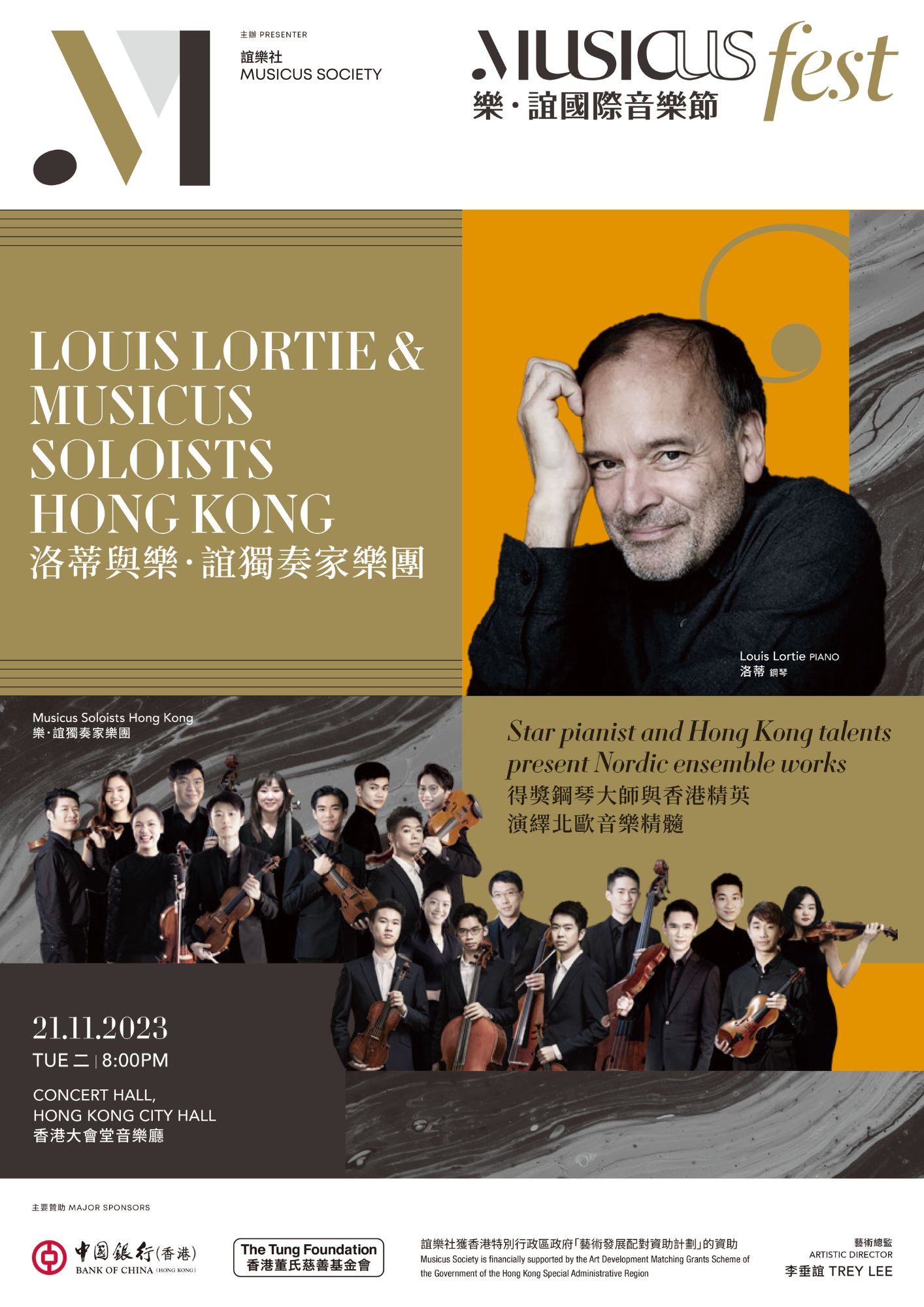 2. Louis Lortie and Musicus Soloists Hong Kong (8 PM, 21 November) | Concert Hall, Hong Kong City Hall
Award-winning French-Canadian pianist Louis Lortie is one of the most versatile and in-demand pianists worldwide, with a repertoire of astonishing breadth, built up over a 40-year career. Laureate of the prestigious Busoni and Leeds competitions and Master in Residence at the Queen Elisabeth Music Chapel of Brussels from 2017 to 2022, he has also performed with some of the world's great ensembles, under the baton of stellar conductors.


In this special concert following Musicus Soloists Hong Kong's acclaimed inaugural concert and European debut, guest artistic director Lortie guideS MSHK in exploring works by Northern European composers such as Carl Nielsen, Arvo Pärt, and Jean Sibelius, in addition to performing Edvard Grieg's unparalleled Piano Concerto in A minor in a rarely heard arrangement with all-strings accompaniment by MSHK.
3. Next Generation Virtuosi (8 PM, 24 November) | Theatre, Hong Kong City Hall
For his solo recital at Musicus Fest, Chan will perform an enchanting program to showcase his talent. A two-time winner of the prestigious Sylva Gelber Award, Chan had also won concerto competitions at the Cleveland Institute, McGill and Rice Universities. He has also honed his skills by taking part in the Verbier Festival's Soloist and Chamber Music Academy in Switzerland.


Chan will be accompanied by renowned Hong Kong pianist and International Chopin Piano Competition prizewinner Colleen Lee in romantic period works such as Grieg's unmistakably Norwegian Violin Sonata No. 3 in C minor, a technical tour de force that is Jenő Hubay's Carmen: Fantaisie Brillante; Beethoven's ever optimistic and bright "Spring" violin sonata, and Clara Schumann's Three Romances for Violin and Piano.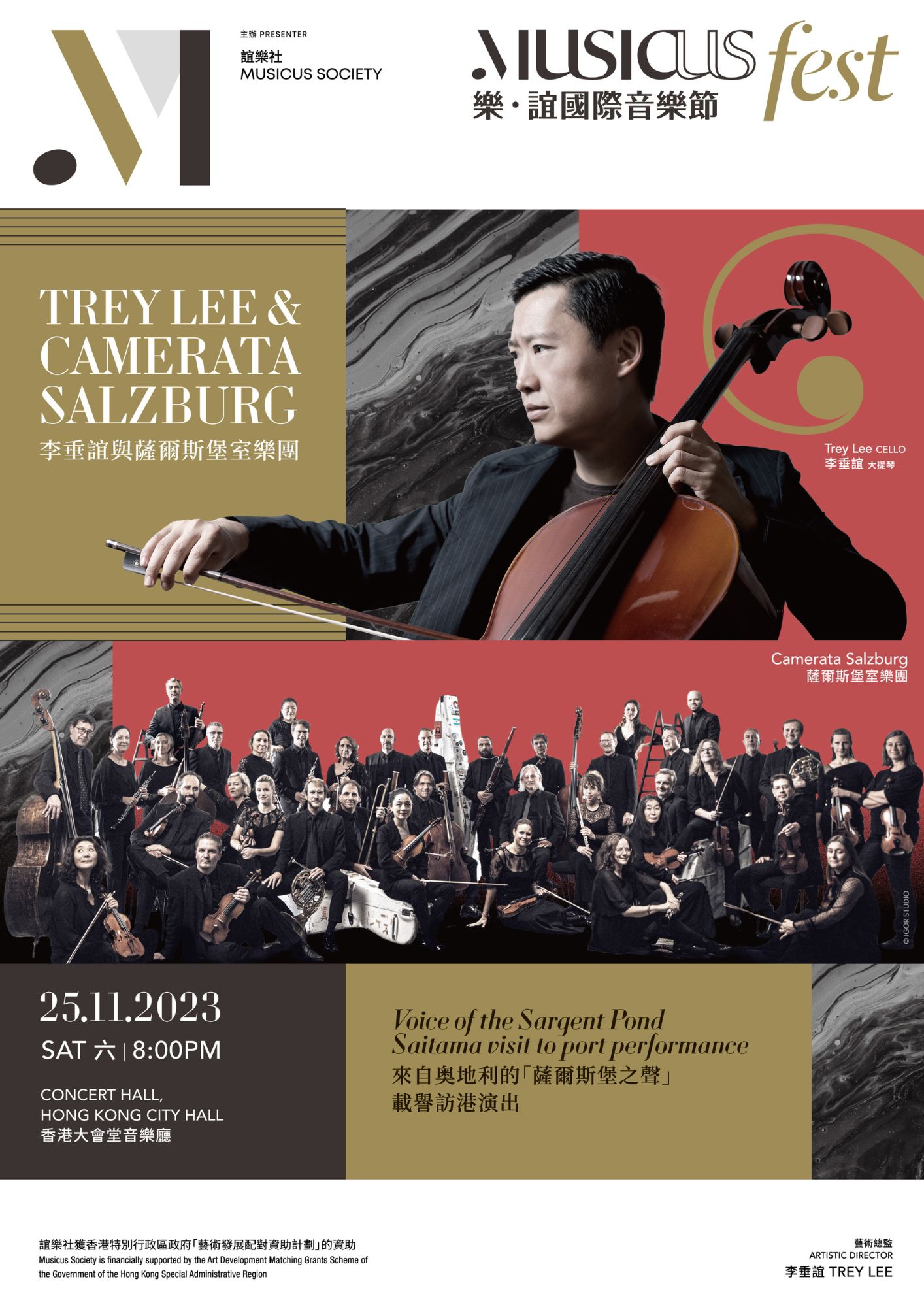 4. Trey Lee and Camerata Salzburg (8 PM, 25 November) | Concert Hall, Hong Kong City Hall
Camerata Salzburg graces Musicus Fest 2023, with Musicus Artistic Director and renowned cellist Trey Lee as soloist, to serve up a concert experience not to be missed. The resident orchestra of Salzburg's Mozarteum Festival has appeared in prestigious international venues such as the Lucerne Festival, BBC Proms, Edinburgh International Festival, and Carnegie Hall in New York.


Hong Kong's own Trey Lee was praised as "a marvelous protagonist...a superb cellist" by the late great conductor Lorin Maazel. In the hands of Trey and the Camerata Salzburg, Shostakovich's Cello Concerto No. 1 is a tour de force of the rhythmic power and relentless drive of his music, never giving up until the final note. Complemented by sailing through the rough and choppy Atlantic Ocean to explore Fingal's Cave in Mendelssohn's Hebrides Overture and basking in Beethoven's triumphant Symphony No. 7, this is certain to be a concert displaying exquisite subtlety and variety, concluding the Camerata and Trey's Greater China tour.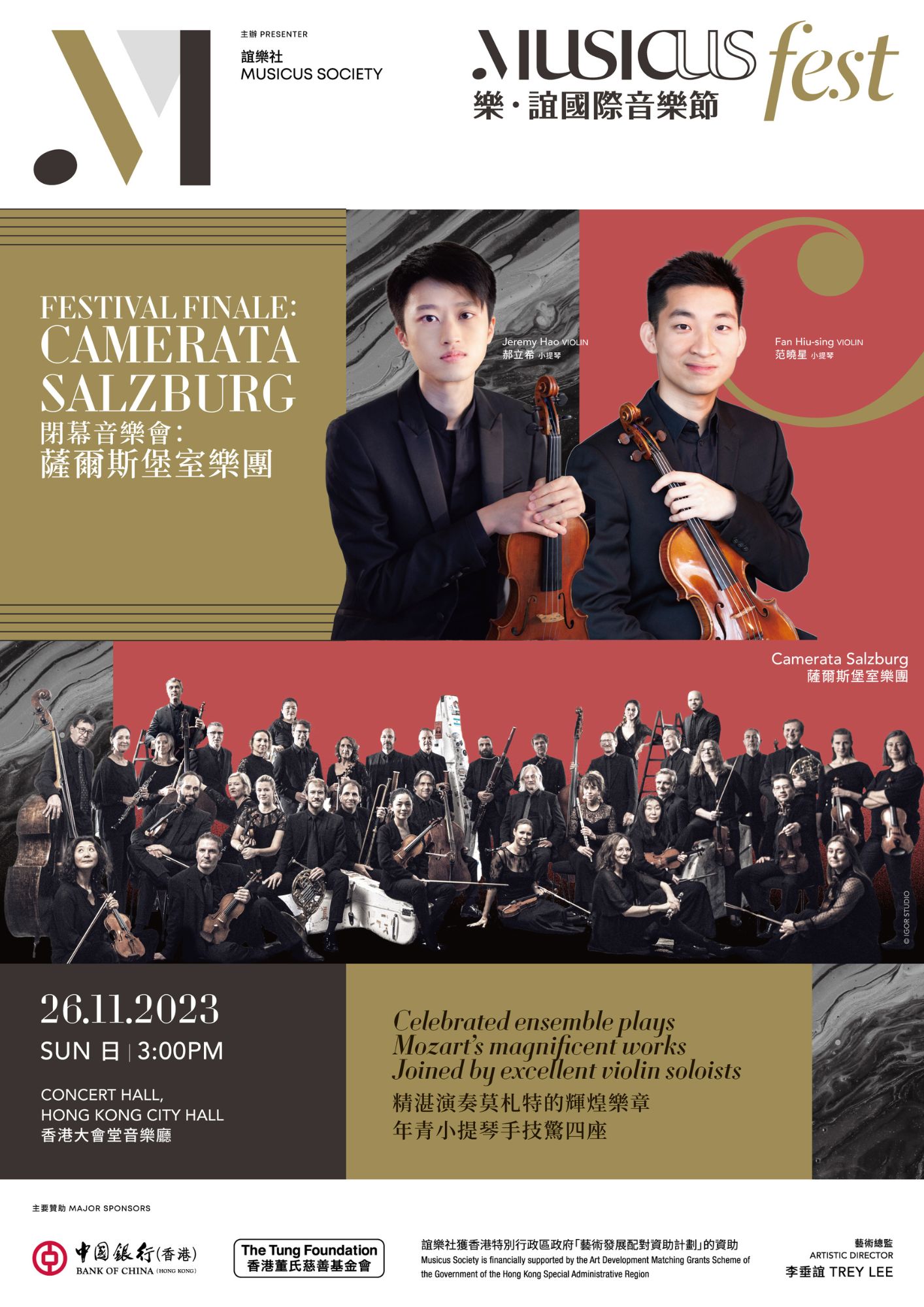 5. Festival Finale: Camerata Salzburg (3 PM, 26 November) | Concert Hall, Hong Kong City Hall
The purveyors of the "Mozart sound" will give audiences a special treat at the Festival Finale, presenting Mozart's hidden gem Concertone for Two Violins and Orchestra in C – featuring rising stars Fan Hiusing and Jeremy Hao Lap-hei on violin – and the grand "Jupiter" Symphony as central pieces. The program also includes Raff's Sinfonietta for winds and Weiner's Divertimento No. 1 which incorporates the Hungarian style.
Join us and witness an extraordinary collaboration between our Austrian guests and Hong Kong talents!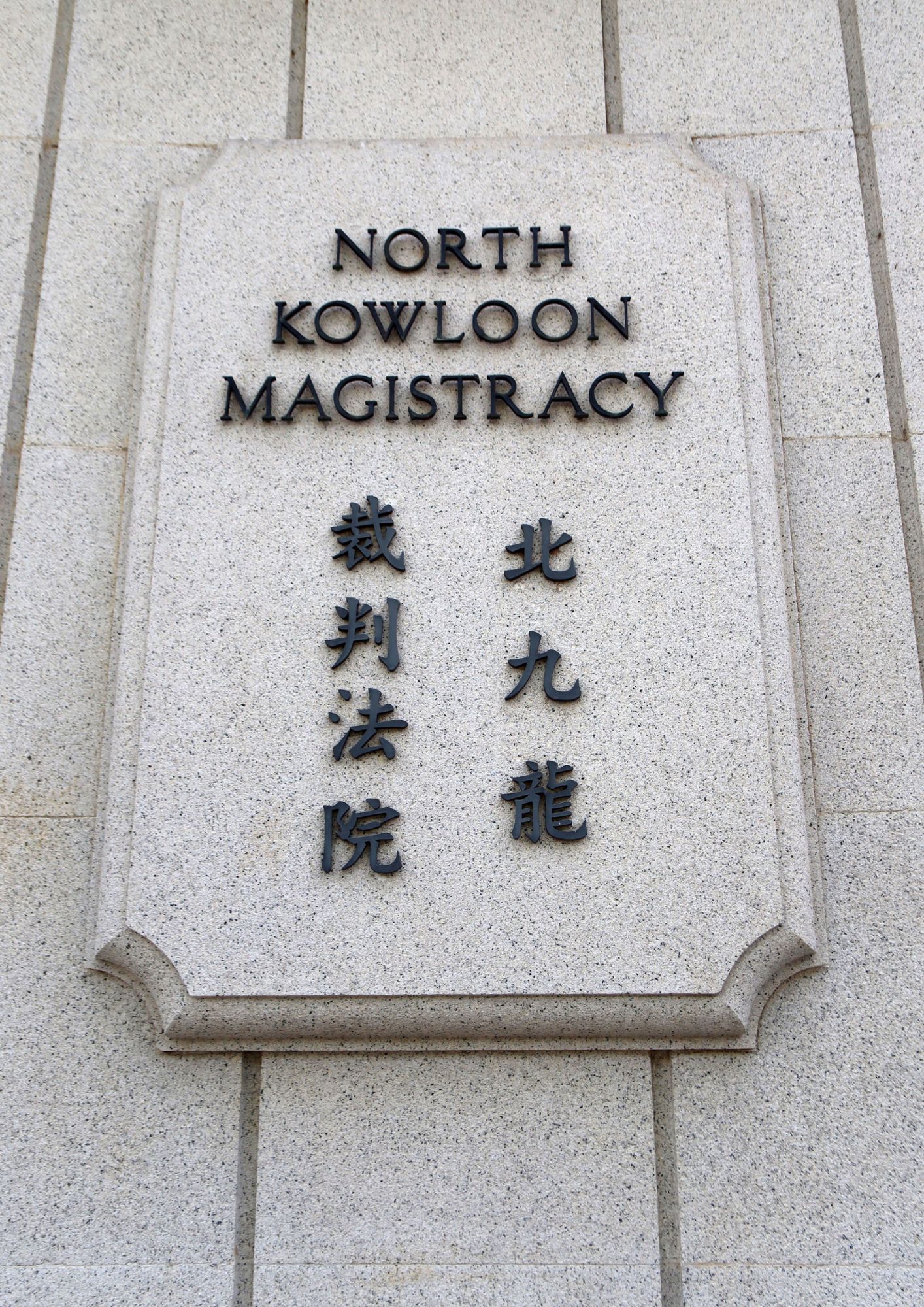 6. Jockey Club Musicus Heritage Stories Concerts (1–3 December) | Former North Kowloon Magistracy
The beloved heritage concert series sponsored by The Hong Kong Jockey Club Charities Trust returns with free concerts performed by guest violinist Martin Funda and other superb musicians. Incorporating cross-art form collaboration and appreciation, the program will also incorporate guided tours and activities introducing the charming fashion style of cheongsam via collaboration with the Hong Kong Cheongsam Association. Details for the five concerts and accompanying guided tours to be announced.
---
Ticketing and Sponsorship Information
Tickets for concerts at Hong Kong City Hall are available at URBTIX (www.urbtix.hk), while free tickets for the Former North Kowloon Magistracy concerts will be offered via registration with details coming soon. Musicus Fest 2023 also features a series of free events and master classes open to the public. More information is available at
www.musicussociety.org
.
Financially supported by the Art Development Matching Grants Scheme of the Government of the Hong Kong Special Administrative Region*, Musicus Society gratefully acknowledges its major sponsors Bank of China (Hong Kong) and The Tung Foundation, its donors and partners for Musicus Fest 2023. The Jockey Club Musicus Heritage Stories program is funded by The Hong Kong Jockey Club Charities Trust.
In no event shall the Funder have any liability of any kind for any person or entity arising from or related to any actions taken or not taken as a result of any of the contents herein.
*The content of this program does not reflect the views of the Government of the Hong Kong Special Administrative Region
---