Musicus Fest 2021 Presents Twelve Concerts at Different Locations
10.29.2021
The annual Musicus Fest will take place from 13 November to 11 December 2021. Over the five weekends, Musicus Society's Artistic Director Trey Lee will be leading international masters and young musicians in various interesting programs held around town. From children and heritage concerts to the grand finale of the festival, the 2021 Musicus Fest offers a great way to experience classical music in a fun and relaxed atmosphere!

Despite the challenges in the past year, Musicus Society has expanded the scope of its annual festival. Mr Trey Lee remarks that "it's been a difficult year for many artists around the world. We are very grateful to be able to expand our festival and be joined by so many wonderful musicians around the world during these difficult times. Although it has been challenging, it is gratifying to see live performances coming back on stage." In addition to launching its annual festival, Musicus Society has recently re-launched its brand logo. "I'm delighted to reveal our new logo, celebrating our passion in weaving together musical connections, advancement and new collaborations in the years to come", Mr Lee added.

For many years, Musicus Fest has been a meeting point for artists from across the globe, giving Hong Kong artists a chance to elevate their artistic excellence through interaction with distinguished artists from different parts of the world. Mr Lee wishes to thank everyone who supported the Society and the festival, including the Art Development Matching Grants Scheme of the Government of the Hong Kong Special Administrative Region; the Society's Visionary Partners - the Bank of China (Hong Kong) and The Tung Foundation; as well as The Hong Kong Jockey Club Charities Trust. "I'm very grateful for the support from our long-standing partners, whose support are crucial for us and for Hong Kong's musical development," Mr Lee added.

Programs of the 2021 Musicus Fest include: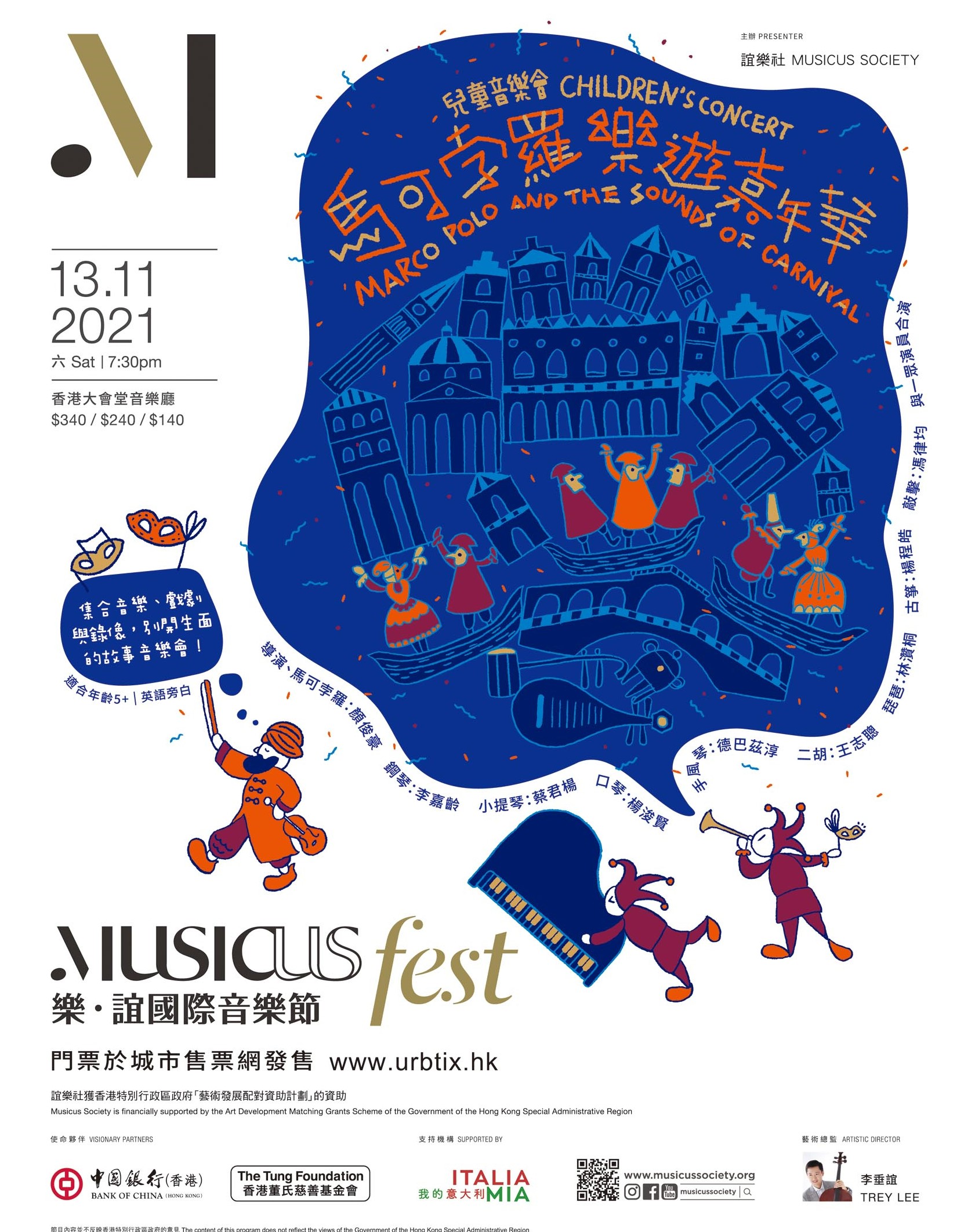 1. Children's Concert: Marco Polo & the Sounds of Carnival (13 Nov) | Concert Hall, HK City Hall | 7:30pm
Integrating Western and Chinese music with live action and comedy skits on screen, this year's Children's Concert rolls out a whole new chapter of Marco Polo's exciting adventures. Exploring the ancient Italian traditions behind the fancy masks and dazzling spectacles, this fun-filled concert features multiple award-winning and brilliant musicians Colleen Lee, Brian Choi, Patrick Yeung, Nazar Tabachyshyn, Wong Chi-chung, Mavis Lam, Yeung Ching-ho and Rani Fung in a variety of repertoires. On stage, actor and director Marc Ngan will lead a cast of young actors, joined by the rambunctious filmed characters of Pulcinella and Zannis from Italy. For ages 5 or above. Narration mainly in English.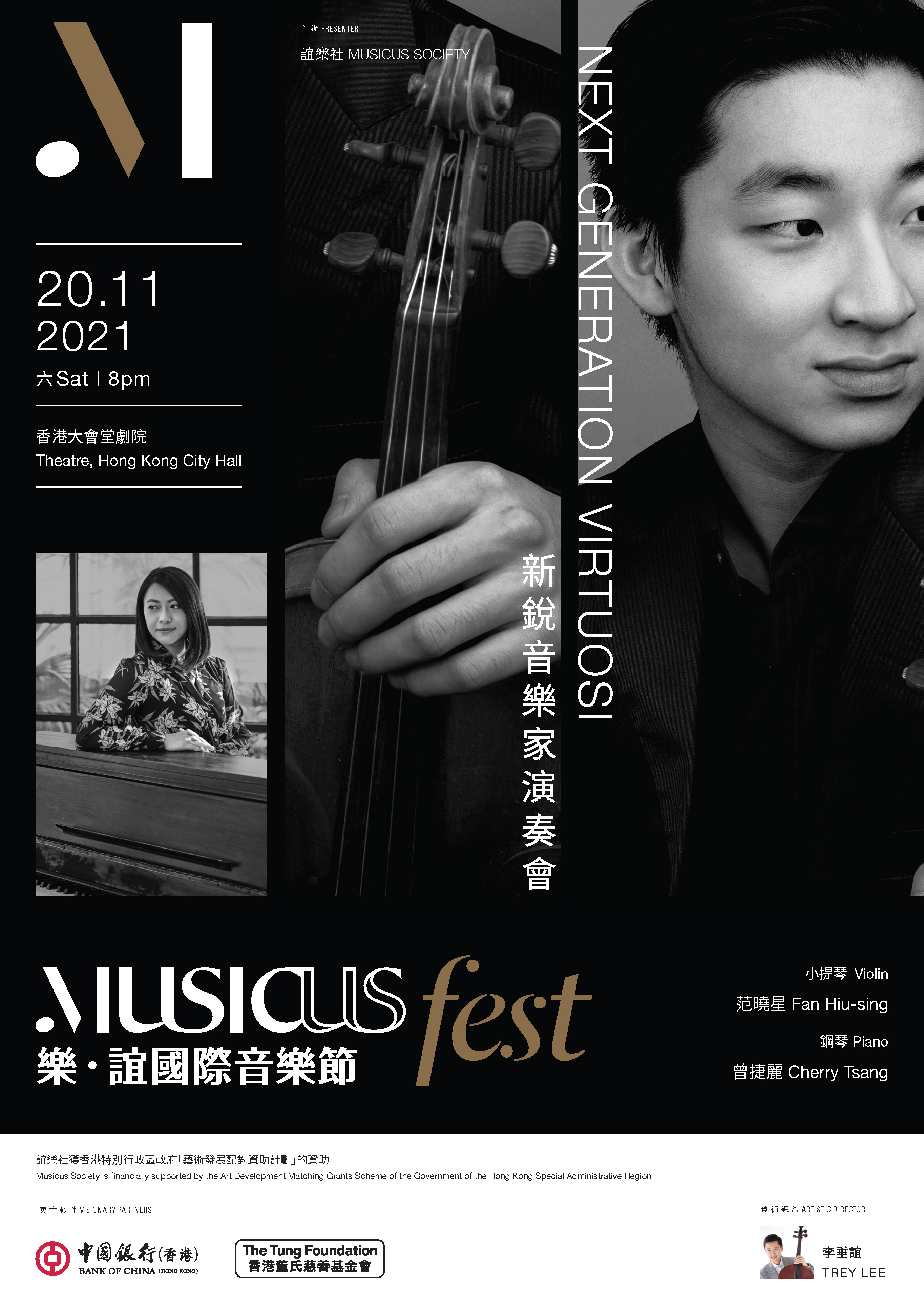 2. Next Generation Virtuosi (20 Nov) | Theatre, HK City Hall | 8pm
Winner of Musicus Society 2021 Young Artist Audition, Hong Kong-born violinist Fan Hiu-sing has established himself as an eminent rising star of the international concert stage. Hiu-sing has won numerous international prizes since an early age, including the First Prizes at the New York International Artists Association Violin Competition, Verão Clássico Festival and Adelphi Chamber Orchestra Concerto Competition. In this concert, Hiu-sing and veteran pianist Cherry Tsang will perform a variety of works: from Mozart's daring Sonata in B-flat and Bach's monumental Chaconne from Partita No. 2, to Saint-Saëns' exotic Havanaise and Grieg's vivacious third Sonata.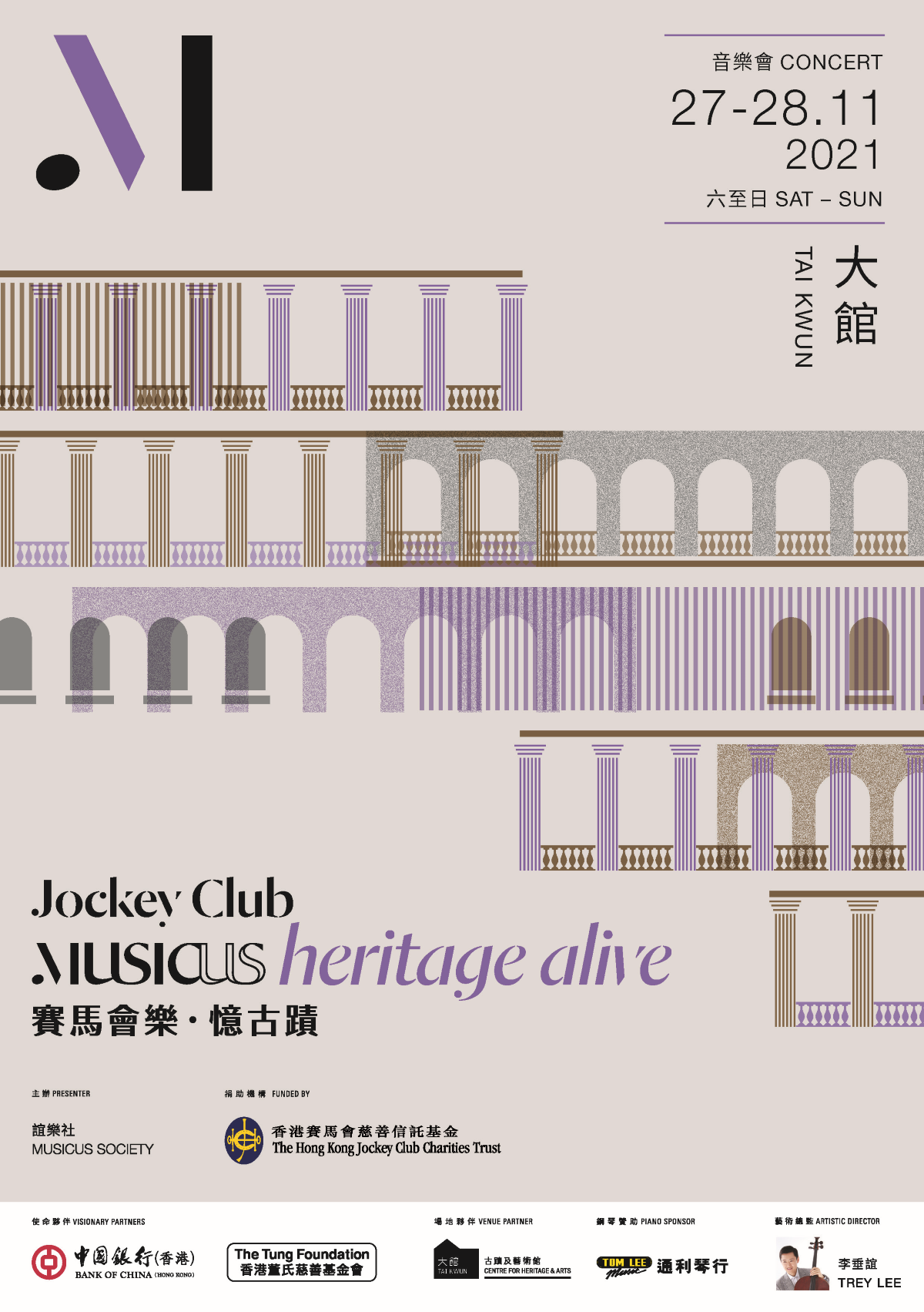 3. Jockey Club Musicus Heritage Alive Concert (27-28 Nov) | Tai Kwun | Various times
Renowned cellist Trey Lee and brilliant Musicus artists return to Tai Kwun in an exciting line-up of concerts both indoors and outdoors. Two unconventional compositions will kick off this heritage concert series at the Laundry Steps on Saturday. With inspiration from Tai Kwun, the new work Over Time by Musicus Society's Call for Scores winner Luk Wai-chun features both Chinese and Western instruments with electronics and video projection. The other work by Finnish composer Kaija Saariaho for string quartet and electronics presents an interesting colours of string instruments. In contrast to the sounds of living composers, the program at JC Cube presents three Austro-German classics by Haydn, Beethoven and Brahms – all with a fascinating underlying linkage to patronage of music and the arts. From aristocratic benefactors to the institutional support provided by Vienna's Society of Friends of Music, cultural patronage has been key to the development of great art and artists for centuries.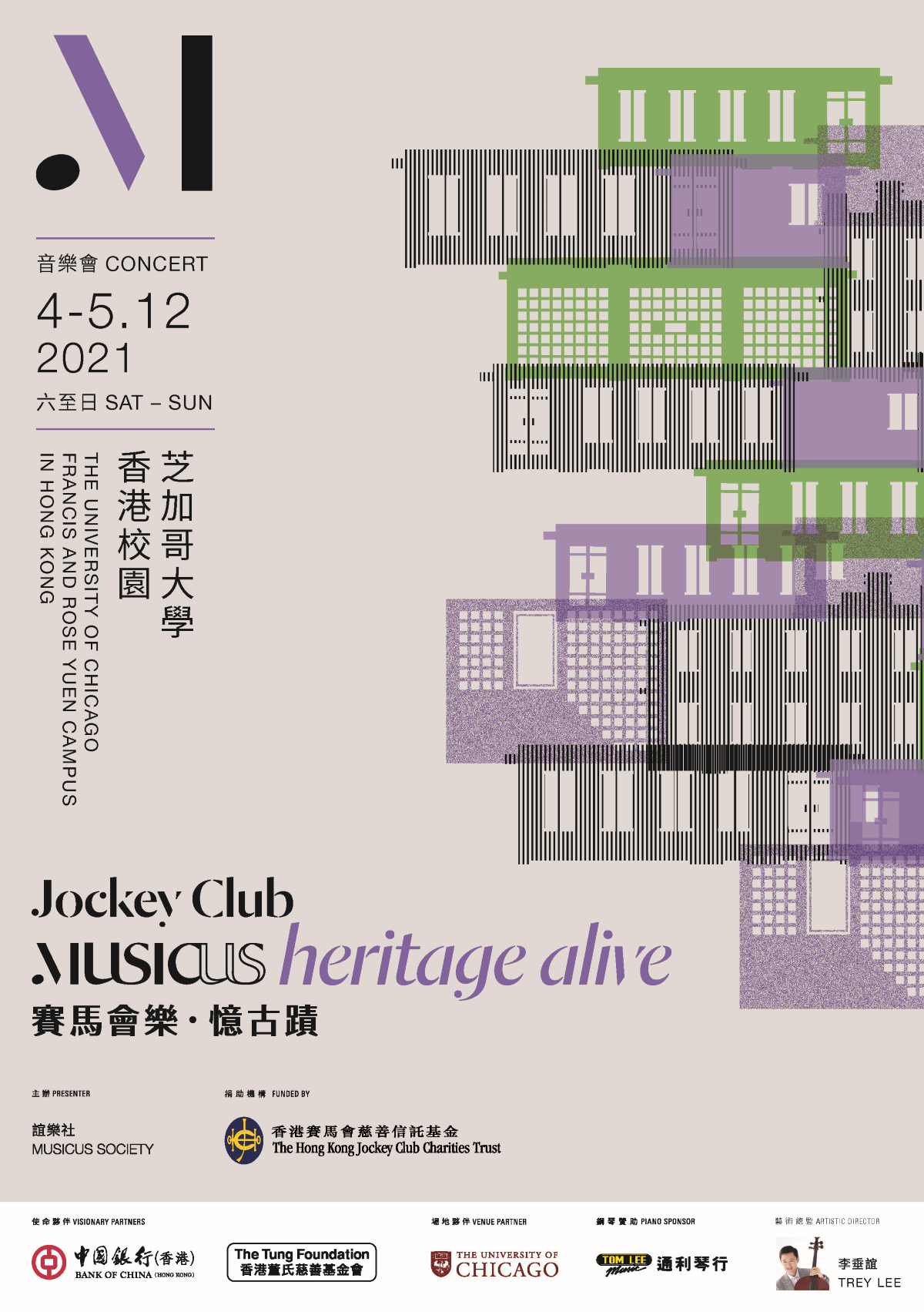 4. Jockey Club Musicus Heritage Alive Concert (4-5 Dec) | The University of Chicago Francis and Rose Yuen Campus in Hong Kong | Various times
Echoing Bing Thom's campus design concept of "Treehouse of Knowledge", this concert series features a unique program that illustrates the genius of JS Bach and how his music influences centuries of composers from the early days to the mid-20th century. The two-day program starts with the first concert featuring JS Bach's Inventions arranged for String Trio, followed by the second concert performing Haydn's Sunrise Quartet and a third presenting two works by his son CPE Bach and Mozart. On the second day, the composer's influence will be exemplified by another three concerts featuring works of Central Europe, Western Europe and Eastern Europe. In addition to this interesting musical journey curated by Artistic Director Trey Lee, audiences will also get to sample this gorgeous campus erecting above the Grade 3 heritage buildings that weaves into the contours of Mount Davis.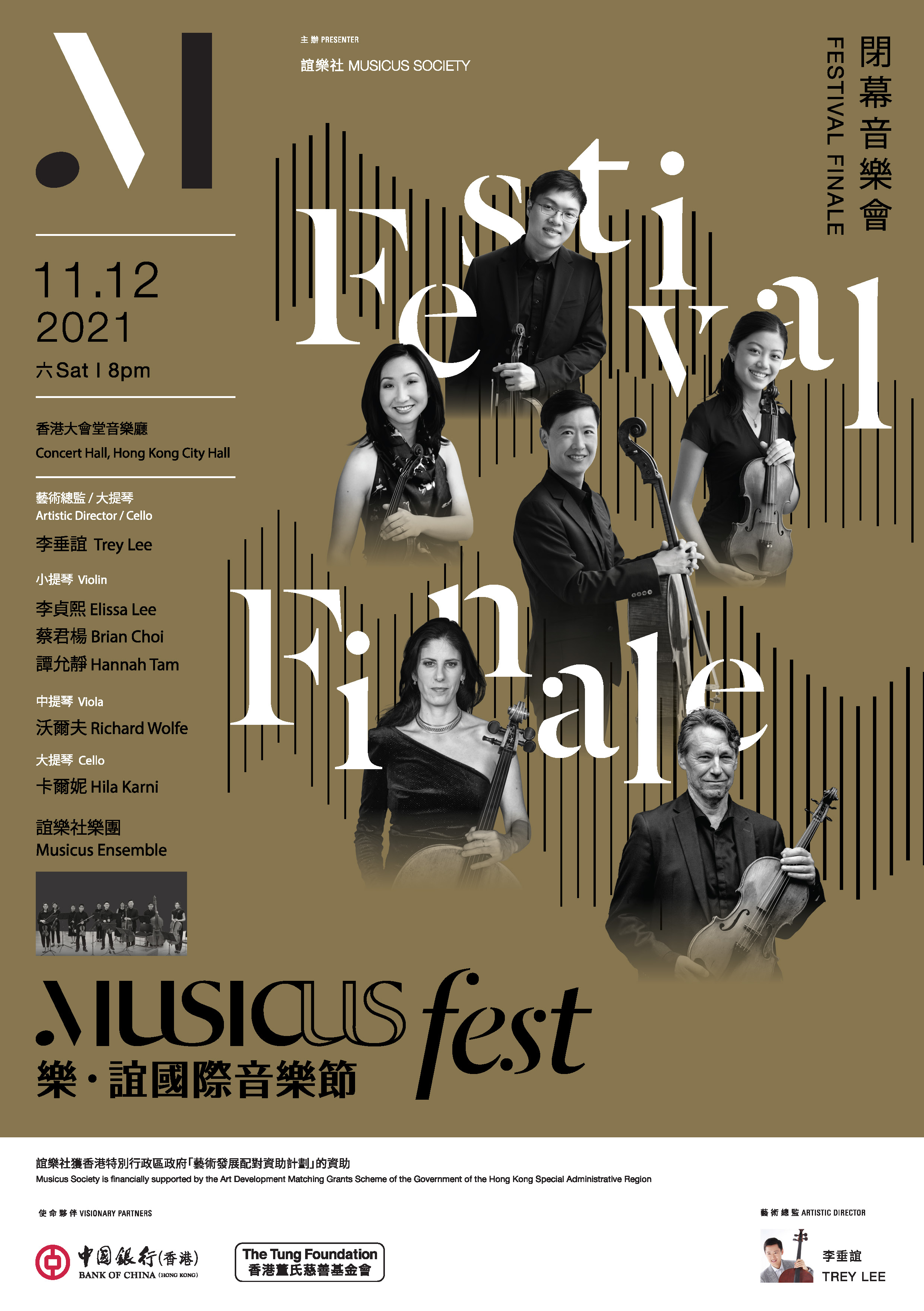 5. Festival Finale (11 Dec) | Concert Hall, Hong Kong City Hall | 8pm
Musicus Fest 2021 reaches its pinnacle at its Finale concert, with guest artists from different parts of the world. Elissa Lee, former second concertmaster at the Oslo Philharmonic Orchestra and West German Radio Symphony Orchestra; Hila Karni, internationally renowned cellist from Israel; as well as Richard Wolfe, former principal violist of the Netherlands Chamber Orchestra; will be joining Artistic Director Trey Lee in leading a specially formed ensemble featuring Musicus young artists. In addition to the famous tunes by Rossini, Mendelssohn and Tchaikovsky, the 16-year-old Menuhin Violin Competition prize-winner Hannah Tam will perform Bach's Violin Concerto No. 2 in E; while multiple-award winning violinist Brian Choi will share the stage with the renowned cellist Trey Lee in Vivaldi's Concerto for Violin and Cello in A.
---
Tickets for City Hall concerts and Tai Kwun are now available at URBTIX (www.urbtix.hk), while tickets for The University of Chicago Francis and Rose Yuen Campus in Hong Kong are available at POPTICKET (www.popticket.hk). Musicus Fest 2021 also features a series of free events and master classes open to the public. More information is available at www.musicussociety.org.In light of the latest COVID-19 situation, the events are subject to change. Please stay tuned and refer to Musicus Society's website for the latest updates.
Financially supported by the Art Development Matching Grants Scheme of the Government of the Hong Kong Special Administrative Region, Musicus Society gratefully acknowledges its sponsors and partners for Musicus Fest, including the Bank of China (Hong Kong) and The Tung Foundation. The Jockey Club Musicus Heritage Alive program is funded by The Hong Kong Jockey Club Charities Trust.
---
- END -